David Ramseur Minter
From AbulWiki
This page is part of the Genealogy Research being done by Samuel Antonio Minter. It represents the best information I have at this time on this individual. This site is a Wiki open to be edited by anyone. If you see errors, or have additional relevant information, feel free to update this page. If you are not comfortable editing the page directly, please email me with the information at abulsme@abulsme.com. Thank you!
---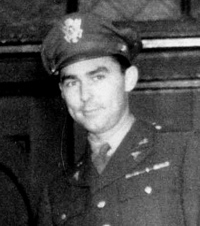 Birth
Date: 25 Feb 1912
Location: North Carolina, USA
Immediate Ancestors
Immediate Descendants
With Mary Sue Wootton
Susan Dawn Minter
Diane Rayburn Minter
Places Lived
North Carolina
Austin, Texas
Philadelphia, PA, University of Pennsylvania Medical School
Rochdale, Mississippi
Washington, DC, USA (1942)
West Palm Beach, FL, USA (1942-1943)
Australia
New Guinea
Philippines
Japan
Philadelphia, PA, USA
Providence (near Greenwood, Mississippi)
Tucson, Arizona
Marriages
Death
Date: 30 Jan 1991
Location: Tucson, AZ, USA
Biographical Information
Was said to take after his father William Ramseur Minter in looks.
Great buddies with his brother John (later a missionary to China) while growing up, they were both Eagle Scouts
BA from the University of Texas
Graduated from University of Pennsylvania Medical College with honors in 1936
Began medical practice in Rochdale, Mississippi at a farmer's cooperative
Met Sue Wootton when she came to work on the cooperative as a college student in 1939
Trained in Tropical Medicine in 1942 at Walter Reed Hospital in Washington, DC
Was a Military Doctor specializing in tropical diseases during WWII in New Guinea, the Philippines and Japan
After the war returned to Mississippi this time at a new project called "Providence" near Greenwood, Mississippi
On 27 Sep 1955 a "Mass Meeting" of the white elite of Holmes County, Mississippi met and accused Dr. Minter and his co-practicioner Dr. Gene Cox of "communist doings" at Providence due to the fact that they treated both blacks and whites at the same facility. They were told to get out of town.
David and Sue stayed for about another year, but then the pressure on them and on Providence Farm became intolerable and the family moved to Tucson, Arizona.
Began a new family practice in Tucson
Was involved in starting Pima Care, the first HMO in Tucson
Volunteered at the Marana Clinic in Tucson caring for migrant workers.
Most of the above was taken from a biographic article in the February 1997 "Sombrero" magazine, the journal of the Pima County Medical Society. HIgh resolution photos (sorry, no scanner available at this time, but still very readable) of the three pages of the article can be seen here: Page 1 Page 2 Page 3. These are also listed in the references section below as pages 35-37 of the packet from Mary Sue Wootton.
Story from Mary Sue Wootton:

I was thinking of our first date...
Dave had no car for several years on the farm. It was 1939 when we met at the Quaker work camp and he was borrowing Gene Cox's car (husband of nurse Lindsey) to make calls etc. So he asked our workcamp counsellors, a young couple Biff and Elsie Jackson with two young boys to take us to a nearby town one evening for a coke.
On the way I was singing some of my favorite folk songs. A Kentucky one "Down in the Valley" for example: "The valley so low, Hang your head over, hear the wind blow. Roses love sunshine, violets low dew. Angels in heaven know I love you."
I think it was that ride that raised the idea of lifetime companions which we were both in search of.
Fast forward to 1991 when Susan and I were with a dying Dave in TMC hospital. He had been in a coma for several days and as I sang that song near his bed he gave a moan. The hearing goes last they say and I am sure he heard the down in the valley tune from that first date.

Story from Mary Sue Wootton:

I guess some of the memories will inevitably be dark.
I used to know the exact date as Coxes and Minters would call each other on MM day(mass meeting).
But I will always remember going to Tchula School to pick up the kids after a peewee football game or such.
Coming from various directions were adults heading there too .
Gene and Dave had been notified to appear before a Citizens council meeting at the school house. (A white collar KluKluxKlan formed first in Greenwood this was only the third or so meeting: to oppose the integration of schools ordered by the supreme court.)
What a long evening Lindsey and I spent waiting for our husbands return.
The verdict of the aroused crowd was: "Leave the state!" with only 3 or 4 brave souls voting no or leaving.
They heard tapes of 4 frightened af af boys who had yelled sometning at the school bus our kids were in... a long story told by Sam Franklin in his story of the Farms or in Rev. Will Campbell's book 'Providence' about the history of the square mile where we were located where details of that night were described.

Story from Mary Sue Wootton:

A friend asked about Daves proposing or asking my Dad for my hand:> (Actually he did neither.)
He got so weary of taking the Greyhound bus up through Paducah Ky over night that we started planning a wedding.
His Dad and Mom and best man Bob Regan drove up from Texas to do the ceremony and my folks from Indiana.
There was a biracial congregation in the big community bldg at rochdale and Bob borrowed candlelabra from Epicopal church in Clarksdale for atmosphere.
Gene cox played romantic tunes on the victrola.
We headed out to Memphis; us in a borrowed car from Dad, and he in his car.
We stopped to help him with his flat tire enroute.
The Peabody hotel had a pool in the lobby complete with ducks.
When night came, the bellhops herded the birds into the elevator and up to the roof until morning when they brought them back down.
(I think I read recently that they have brought the ducks back as they were so popular.)"

Story from Mary Sue Wootton:

Bill was born Sept 22 in Walter Reed Hospital (which he drives by often as you probably know) in 1942 while Dave was in tropical medicine school to go to the South Pacific.
We were sent to West Palm Beach, Fl and on my birthday January 1943 he and Dr. Francisco Dy from Manila were flown over to Australia as malaria was killing more soldiers than were the Japanese.
(Letter enclosed from Paquito Dy who after the war was head of Infectious diseases in the WHO in Manila. The episode he refers to in the first paragraph was a bottle of prune juice in the big plane and a toilet that flushed backward and the pilot said someone always left the seat up!!!)

Note: No letter was actually enclosed

Dave had come home to me in Evansville, Indiana where Bill and I stayed near my folks during the three years.
We took a train trip before Dave left to see Daves folks.
WR was semiretired in a small church in Palestine, Texas.
We were only there a few days and dad Minter baptized Bill.
When Dave returned Dave took a refresher course at his alma-mater University of Pennsylvania in Philadelphia and we lived in several places: bedrooms in peoples houses in the suburbs.
Then we returned to Providence where the Coop Farm had moved from Rochdale, Mississippi where we met further south.
You probably know more about all his (William Maynard Minter's) African homes and travels than I.
Dy and I corresponded after Dave died: a smart gentle man. He and Dave were great friends.

Story from Mary Sue Wootton

Susan reminded me of this story of Dave when he was interning (or resident) in U of Penn hospital after he graduated from med school.
It was Christmas and the nurses carrying candles were singing the lovely Yuletide carols of the season as they walked through the pediatric ward to serenade the children.
Dave had gotten ahead of them, jumped into an empty crib, and pulled up a babe blanket to his chin.
When the songsters saw him, their laughter broke up the song and the hushed mood!!!!!

Story from Mary Sue Wootton

This is such a well-told story in the family I am sure everyone has heard it several times, but just in case.
One of Daves first patients was an old man who had had years of impacted wax in his ears and complained of being deaf.
Dave had him put warm oil in for several days and then come back and he washed the ears out with a big syringe and used a small instrument to get the canals squeaky clean.
The old man was so delighted he spread the word everywhere he went that that new young doc down at the clinic could cure deafness!!
So there were a lot of hopeful patients who came: some who had the same problem and some really hard of hearing who left disappointed :>)

Story from Mary Sue Wootton:

There was a big cold spring at Providence between Genes country store and Dave's clinic.
It was a favorite place for the Minter and Cox children to play and even Dave now and then in the summer took a dip at lunchtime, but it was sooooo cold.
Diane claims they were always afraid of snakes but saw few and that i made them get out when their scars turned blue.
(Carol the chubbiest could survive longer in the icy water.)
A raft was an old water heater and they often wished it was filled with hot water.
Diane says she fell into a barrell near the pond that was full of quicksand, head first, and we had to pull her out in a rescue.
There were trees around for privacy and it was a very important part of growing up in Mississippii.

Story from Mary Sue Wootton:

Now while Jake is in Albuquerque is a good time for the story of Dave's elegant dresser that is now in Jakes room at 33l4 Mackland.
Dave the baby in the family of a Southern Presbyerian preacher in Austin TX ( a fairly poor preacher with four children) grew up with sort of make shift furniture.
He remembered dresser drawers that wouldn't open easily etc.
So once in Mississsippi, when we had saved up a bit of money, (His first year the Presbyerian mission board promised him 1000 dollars. He made 994 and as he said "graciously" waived the 6 owed!) we went to Jackson and picked out a chest on chest dresser, lovely dark wood, and drawers that slid in and out like a charm.
It was a heavy load for the rather small truck that brought it up our bumpy dirt road to our house on the hill.
As the first grandchild, I thought Jake should have it.
He has roamed far and wide.but when he returns to visit, the dresser is a reminder of his gentle loving grandfather who cheered him on on his soccer team and was so proud of him.
References
Notes
SSN was 526-54-1897 which was issued in Arizona
This page posted on Abulsme.com on 30 May 2006
The "first date" story posted on Abulsme.com on 17 Aug 2006
Categories