Harriet Maria Smith
From AbulWiki
This page is part of the Genealogy Research being done by Samuel Antonio Minter. It represents the best information I have at this time on this individual. This site is a Wiki open to be edited by anyone. If you see errors, or have additional relevant information, feel free to update this page. If you are not comfortable editing the page directly, please email me with the information at abulsme@abulsme.com. Thank you!
---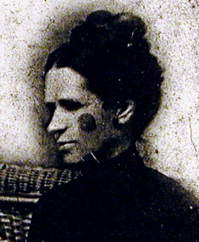 Birth
Date: 7 Jan 1874
Location: Glenn Springs, SC, USA
Immediate Ancestors
Immediate Descendants
William Smith Minter (2 Jul 1902 - 1960 married Edna Clear)
Catherine Christina Minter (9 Jun 1905 - ??? married James Tinsley Smith)
John Perrin Minter (9 Feb 1909 - ???? married Elizabeth Manget)
Places Lived
Marriages
Death
Date: 10 May 1964
Location: Austin, TX, USA
Biographical Information
Story from Mary Sue Wootton: "Grandmother Minter used to walk up in spring to see the dogwood blossoming." (To the hill above the David Ramseur Minter house in Mississippi.)
HMS would spend several months with each child in her later years.
Would don her overalls and take care of David Ramseur Minter and Mary Sue Wootton's garden in her 80's.
Her last years were spent with her daughter Catherine and her husband James in Tower Apartments in downtown Austin, TX
References
Notes
See notes on Christian Eber Smith page for thoughts on Harriet's father's name
This page posted on Abulsme.com on 18 Jun 2006
I have dated the picture on Page 14 of the packet as 1912 as it appears everybody is wearing the same thing as in their pictures on page 20 of the packet, which according to page 21 of the packet was a reunion in 1912.
Categories