Ralph Aaron Brandon
From AbulWiki
This page is part of the Genealogy Research being done by Samuel Antonio Minter. It represents the best information I have at this time on this individual. This site is a Wiki open to be edited by anyone. If you see errors, or have additional relevant information, feel free to update this page. If you are not comfortable editing the page directly, please email me with the information at abulsme@abulsme.com. Thank you!
---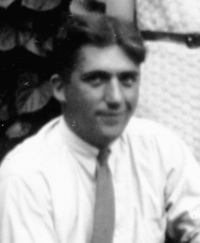 Birth
Date: 26 Jul 1905
Location: Searcy County, Arkansas, USA
Immediate Ancestors
Immediate Descendants
With Marion Vera Hurlburt
Donald David Brandon (of Delmar, NY)
Paul C Brandon (of Bellows Falls, VT)
Places Lived
Marriages
Death
Biographical Information
Family were homesteaders in Arkansas when he was young
Graduate of Defiance College
Graduate of Yale Divinity School
At the end of Seminary married Marion Vera Hurlburt and moved to Maine
Ordained in Versailles 19 Jun 1927
In Maine was on staff of the Wider Parish of Oxford
Had his tonsils out in a home surgery at the home of Donald Paul Hurlburt with Marion Vera Hurlburt attending
Second Ministry in Hamersville, OH with work as well at other nearby towns
Third and last Ministry at Covington, OH.
Died before third child Ruth Marilyn Brandon was born.
From My Faith Journey 1997 by Ruth Marilyn Brandon:

My father (Ralph Aaron Brandon), my uncle (Roderic Wright Hurlburt), my grandfather (Donald Paul Hurlburt) were all ministers of the Christian and later Congregational Christian churches, my uncle continuing on into the United Church of Christ. Yet I did not grow up in a parsonage. My father died in a pastorate in Ohio at a young age, six months before my birth, so I never knew him in person.

Ruth Marilyn Brandon notes for a meeting with RAB's former congregation in Hamersville:

Hamersville Homecoming Oct 1, 2006
I do greet you in the name of the other churches of SONKA and thank you for your participation through the years together with the wider church together we share Christ s ministry.
However, especially Honored father a pastor in the larger parish of which this church was a part 1930s
Apple crate he clearly worked a lot with camping and youth and drama and song found a lot of 1930s resources for recreation and parties things like a Golden Rule Halloween Party
Letter Addressed to Rev. Ralph A. Brandon, Hamersville, Ohio from the Danforth Foundation dated March 20, 1939. It apparently accompanied a free copy of the book, I Dare You addressed to youth and for use right here. The letter reads, After your youth Sunday in your church, Mr. Danforth would appreciate a copy of your program and local clippings. It is very much the Danforth Foundation s desire to recognize talent for leadership in youth wherever it may appear and to stimulate youth to purposeful living. To cooperate with your Four-fold youth Program, this Foundation invites you to recommend a high school boy or a high school girl (or both if especially outstanding) attending your church regularly, who, in your judgment has demonstrated distinct qualities of leadership
I also found a report my father gave to the Ohio Conference of Congregational Christian Churches in 1941 when he chaired something called the Rural Church Commission. By then he had left you for Covington but clearly his report has Hamersville and Higginsport and many other rural places in mind. I quote briefly and want you to know that I agree with him about the importance of rural ministry. He said:

Recognizing that there is no single method which will fit all situations .we re-emphasize the need to work with these churches, study their problems, and guide them to better programs of service. We suggest that pastors of the larger village churches look around them and see if there isn t a crossroads church which can be given a lift by a preaching service[on Sunday afternoon or evening]. Such an expression of interest might prove the most profitable missionary work your church ever did..Beware of trying to get the little church to close up and come in with the village church,,,they must be given the Christian message out where they are .we recommend that each Association have a committee to aid the small churches etc In order that the life stream of our Christian faith may be kept flowing in the town and country churches of Ohio and from them into the life of our cities, we urge the careful consideration of these recommendations..Do not let our Rural churches become like think emaciated cows, lowing at the barnyard gate. Feed them and they will become contented producers of a nourishing Christian faith that will vitalize and save the Church and civilization.

When my father was here, you in Bible Chapel were not alone receiving his services. I read from a December 17, 1938 clipping: Ministering to the spiritual needs of one church is quite a job for any clergyman today. But having six congregations all widely separated, is a real task. That s the unique position in which the Rev. Ralph A. Brandon, pastor of Hamersville Bible Chapel finds himself. The local church belongs to the Christian Fellowship Parish, including churches in Brown and Clermont counties .located in Hamersville, Higginsport, Mt. Holly, Port Isabel and Clermontville on Route 52. Today Bantam Presbyterian Church joined the fellowship There are nearly 800 families in the entire parish and for several years another minister assisted with the work. Four months ago, the Rev. Theron Zimmerman resigned, leaving the Rev. mr. Brandon in charge. Another minister is being sought.

Additional notes from Ruth Marilyn Brandon after Hamerville visit in Oct 2006

Today was fun - I preached in the morning in a church about 70 miles from here that my father served in the late 1930s before I was born or imagined. My two older brothers were pre-schoolers there. (Bible Chapel in Hamersville - east of Cincinnati ca. 20 miles not far from Ohio river) So yesterday I went through a stuffed apple crate that had ancient folders of all kinds of paper from my dad's ministry and found several interesting things I could quote to them - it was their Homecoming Sunday. When he was there he was pastor to 6 churches in two counties - sometimes with an associate pastor helping. there were about 800 families in this "larger parish" so he had the responsibility of a pastor of a large church only the parishioners, worship services etc. were spread out throughout this rural area. This is the only congregation remaining of the six. And even for "homecoming" there were a total of 22 present - Bible study before church, church, and then a meal together. One lady brought a copy of her baptism certificate to show me - they did it in the river when she was 13 years old and she remembers how cold the water was! Sure enough my father's signature was right there!
References
Notes
Many sources give a birth in Darke County, Ohio. I have gone with the Searcy County, Arkansas information given in the referenced email for now due to multiple references in the information for David Clement Brandon for the time the family spent in Arkansas.
There is a Ralph Brandon in a 1922 picture on Rootsweb from the O'Kean School in Randolph County Arkansas. But The kids in the row he is supposed to be in do not look to be 16 (it is hard to tell which kid specifically is refered to), it is the wrong county, and the other Brandons listed are not the right names to be Ralph's siblings. (Reference to list of siblings in the Mendenhall Descendancy). Also, it appears that our Ralph Brandon was in Ohio by 1922. So I am assuming this is a different Ralph Brandon. Please correct me if I am wrong.
Some sources list wife as "Marian Hurlbert". Going with Marion Vera Hurlburt since that is confirmed in many places.
Sometimes listed as "Ralph E Brandon". Going with the middle name Aaron as I have that from more direct sources.
This page posted on Abulsme.com on 4 Jun 2006
Categories