Mary Evelyn VanTilburgh
From AbulWiki
This page is part of the Genealogy Research being done by Samuel Antonio Minter. It represents the best information I have at this time on this individual. This site is a Wiki open to be edited by anyone. If you see errors, or have additional relevant information, feel free to update this page. If you are not comfortable editing the page directly, please email me with the information at abulsme@abulsme.com. Thank you!
---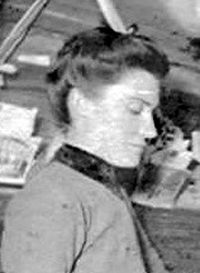 Birth
Date: 29 Jul 1876
Location: Sidney, Ohio, USA
Immediate Ancestors
Immediate Descendants
Philip Leroy Brandon (b 1 Sep 1910 in Searcy Co, Arkansas; Married Eva Thomas; d after 1956 in Midland, TX)
Clement Edwin "Ed" Brandon (b 3 Oct 1915 in Darke Co, Ohio; Married Marian Steingass)
Places Lived
Beaver Twp, Searcy Co, Arkansas, USA (1910 Census)
Wayne, Darke Co, Ohio, USA (1920, 1930 Censuses)
Marriages
Death
Biographical Information
Along with her family were homesteaders in Arkansas
Was always present at the VanTilburgh reunions and her keen memory was a valuable resource for the gathering.
Story from Paul C Brandon about the back of the Versailles farmhouse:

Formerly it was a frame addition the same width as the house & it had screens only on the windows which left it largely un-useable in the winter, but was where the back door was located so all foot traffic had to tramp through, bringing mud and barnyard goo to the kitchen, much to my grandmother s disgust.
References
Notes
Name seen spelled VanTilburg, VanTilburgh, VanTilberg. Sometimes with a space after the Van, sometimes without.
Ruth Marilyn Brandon notes that she has a 23 page booklet on the VanTilburgh's
This page posted on Abulsme.com on 3 Jul 2006
The location of MEV's house in Versailles is now a parking lot.
Categories