Mourning Bearden
From AbulWiki
This page is part of the Genealogy Research being done by Samuel Antonio Minter. It represents the best information I have at this time on this individual. This site is a Wiki open to be edited by anyone. If you see errors, or have additional relevant information, feel free to update this page. If you are not comfortable editing the page directly, please email me with the information at abulsme@abulsme.com. Thank you!
---
Birth
Date: 15 Jun 1763
Location: Granville County, NC, British Empire
Immediate Ancestors
Immediate Descendants
With William Smith 1751
Aaron Smith (b 12 Jan 1781 in Pauline, Spartanburg Co, SC)
Lettice Smith (b 6 Jun 1783 in Pauline, Spartanburg Co, SC, married William Jenkins of Chester, SC and moved to Talladega, Alabama)
Isaac Smith (b 31 Oct 1784 in Pauline, Spartanburg Co, SC, married Polly Barry)
Eber Smith (b Dec 1787 in Pauline, Spartanburg Co, SC, a physician, m Polly More, m2nd Eliz. Ashford of Fairfield District)
Ralph Smith (b 1790 in Pauline, Spartanburg Co, SC, m Susan Turner of Clarke Co, Georgia)
Massey Penquite Smith (b 29 Apr 1792 in Pauline, Spartanburg Co, SC married ??? Rabb)
William Robert Smith (b 1794 in Pauline, Spartanburg Co, SC, m Miss Ashford, moved to Fairfield District)
Sarah Smith (b 24 Jan 1795 in Pauline, Spartanburg Co, SC)
Mary Smith (b 1798 in Pauline, Spartanburg Co, SC,married Joel G Brewton of Spartanburg)
Jane Chapman Smith (b 15 Sep 1799 in Pauline, Spartanburg Co, SC, m William Bogar of Union Co, SC)
John Winn Smith (b 13 Jan 1802 in Pauline, Spartanburg Co, SC, a physician, married Catherine Faber sister of Christina Marie Faber)
Eliphas Twinning Smith (b 18 Apr 1806 in Pauline, Spartanburg Co, SC, m Eliz. Earle, moved to Alabama)
Places Lived
Marriages
Death
Date: 2 Oct 1842
Location: Glenn Springs, Spartanburg Co, SC, USA
Burial: Smith Cemetery, about 1.5 miles south of Glenn Springs, SC along with her husband
Tombstone reads:

Sacred to the Memory of Mourning Smith w/o Maj. William Smith. Who departed this life Oct. 2nd. 1842 Aged 79 Yrs. 3 mos. and 17 Ds. She was an old and steadfast member of the Bap...Church, was eminently distinguished for .... observance of christian duties, And he disenterested (sic) beneovolence secured the warm affectations of all acquainted with her. Blessed are the dead who die in the Lord.
Biographical Information
In William Smith 1751's will was given "possession and full use of" a number of slaves (as well as some household furniture and supplies) until her death at which time they would be distributed to various of their children.
From Minnie Mourning Smith via "Southern Lineages" by Adeline Evans Winn via "Preserving the Past" by Irene Bearden Keller via Rootsweb "Trail - Lassus - Hartley":

Now my grandmother was Mourning Bearden, daughter of John and Lettice Winn Bearden. She was born June 15, 1763, as recorded in my grandfather William Smith's old Bible. Lettice Gowen was my grandmother Smith's sister. My Grandmother Smith was so annoyed by the Tories during the Revolutionary War that in her husband's absence, she had to leave home and live with her sister, Lettice Gowen, during the latter years of the war. This is where she lived when she married my grandfather.

Mourning Bearden became a member of Friendship Baptist Church in September of 1802 along with her brothers John and Richard.
From "The Winns of Fairfield County" via WINN-L:

Mourning Smith, wife of William Smith Esq. and daughter of Lettice Bearden, in and unusual display of liberality, was allowed to join Friendship Baptist Church without being baptised again, although she had been raised a Methodist.
Pictures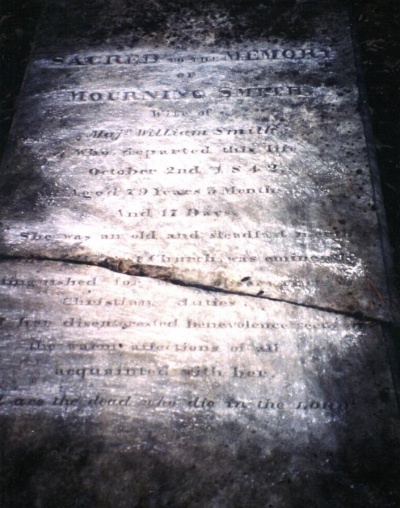 References
Notes
The handwritten source from William Maynard Minter gives a birth in South Carolina. Going with the North Carolina location given by Trail - Lassus - Hartley as it is more specific in that it also gives a county.
Isaac's birth date is sometimes listed to be the same as Aaron's.
Some sources list birth month as Jan rather than Jun
Some sources give marriage in 1780
Some sources give daughter Jane's birth in 1800 rather than 1799
Some sources give mother's name as "Lettice Wynn" rarger than Winn
The Richard D Bearden source gives a different father for Mourning, but given the detail in other sources, I will ignore this for now.
Categories