Maude Mae Rayburn
From AbulWiki
This page is part of the Genealogy Research being done by Samuel Antonio Minter. It represents the best information I have at this time on this individual. This site is a Wiki open to be edited by anyone. If you see errors, or have additional relevant information, feel free to update this page. If you are not comfortable editing the page directly, please email me with the information at abulsme@abulsme.com. Thank you!
---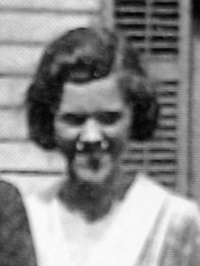 Birth
Date: 5 Jan 1889
Location: Lewis Co, KY, USA
Immediate Ancestors
Immediate Descendants
Norma Louise Wooton (married Fred Esch)
Places Lived
Marriages
Death
Biographical Information
Written by Charles Rayburn

Many uncles, aunts, neighbors and teachers influenced who we were and who we are. Aunt Maude, one of Dad's two sisters deserves special recognition.
She and her husband, Uncle Bill Wootton, met in college. Uncle Bill has an amazing "rags to riches" career, finally owning the Lockyears Business College in Evansville, Indiana. His resources gave aid to all of her nieces and nephews.
She made our Christmas each year. Each year we received a box of candy, toys and clothes. This was very important. Without this our Christmases would have been bleak. Aunt Maude made Christmas joyful and exciting.
Each summer Aunt Maude and her two daughters came to visit Grandpa and Grandma Rayburn for a summer vacation. It was great to visit with and listen to these city cousins. Aunt Maude brought fireworks for celebrating July 4th. She usually brought marshmellows for roasting and oranges as a special treat.
Aunt Maude opened our minds to life outside the hills. She excited us with the vast opportunities which lay ahead.
She purchases the old farm from Mom just before I went away to school. This would allow Mom to continue to live there and have funds to send Wilbur and me to school. She had no need for the pitiful farm and no desire to own it. It had no value to her butit provided Mom a method of maintaining her pride without seeking welfare.
Aunt Maude taught us altruistic giving by her remarkable examples. This was deeply engraved in our spirits.

MMR was a teacher, her first job being at a small one room schoolhouse.
Recollection of Mary Sue Wooton:

Uncle Bill and Aunt Maude, my folks, were the solid center for both sides of the families united by their marriage. Dad grew up in Central City, Ky -- first job in the coal mines; and Mom in a hardworking farm family in Emerson, Ky -- first job a one room school house. Later as solid citizens in S Indiana, Evansville on the Ohio River, Dad was owner of a busy tristate business college and Mom took care of many kin beside her own!! Not too strong nor organized she opened her spareroom and board to nieces and nephews through many years as Dad gave them free tuition.
I remember that Bud (named for grandpa LN lewis Rayburn) complained once that he was so weary of ribeye steak as that was what Maudie could fix fast for supper for all.
We were away at college I guess when Dick sent his laundry home from Purdue for her to wash and send back! This was the family a half block from us on E Powell that she did what she could for after Margaret lovely browneyed wife of her bro "Doc"" one of the two redheads in tht family died of pneumonia after the birth of her last child Eugene. Mother worried with the constant parade of housekeepers and keeping groceries in etc. The touching story that says a lot about this Appalachian woman (she never pulled a weed if it had a blossom) and had a love of animals. After dishes were done and things quiet, she would go often and get Docs litte pooch, walk him down two blocks (she never drove a car), buy him a hamburger which he ate on the deli floor!
They also took in one of my friends from my summer in Mississippi in work camp (a sharecropper). She was in DC working during the War, married a man high in the Navy, and was always grateful for her middle class life.

Story from Mary Sue Wootton:

Not so strange I guess (as she is our rememberer) that Diane remembers a tale I told them from my past.
It was Christmas; the tree all decorated, presents still under the tree.
Family friends came over to wish us well on the holiday: the Ruleys who worked with Dad in the business college I believe.
Their boy Henry shot his cap pistol into the tree and it burst into flames.
Everything began happening at once.
The nurse mother had for Norma Louise was just diapering her and had to run across the street to finish pinning it.
A niece one of the many that Mother gave bed and board to while they went to Lockyears Business college was upstairs and came down on a ladder the fireman put up to her bedroom.
Another fire story is when the fire was sweeping through the trees at the bottom of the hill our house sat upon and we had to stand guard to keep it from spreading .
But that is for another time.
(I must've been about 4 at the time.)
References
Notes
This page was posted on Abulsme.com on 24 Jun 2006
In different places middle name is listed as both "Mae" as I have it and as "May".
Categories