Mary Alice Stamper
From AbulWiki
This page is part of the Genealogy Research being done by Samuel Antonio Minter. It represents the best information I have at this time on this individual. This site is a Wiki open to be edited by anyone. If you see errors, or have additional relevant information, feel free to update this page. If you are not comfortable editing the page directly, please email me with the information at abulsme@abulsme.com. Thank you!
---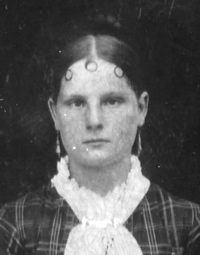 Birth
Date: 18 Apr 1865
Location: Emerson, Lewis Co, KY, USA
Immediate Ancestors
Immediate Descendants
Charles Simpson Rayburn (b 12 Nov 1883, d 8 Feb 1904)
Martha Weaver Rayburn (b 6 Nov 1886, d 21 Jul 1962 in Rush Co IN, married Joseph Winfield Fitch on 20 Dec 1903)
James Tinsley Rayburn (b 12 Sep 1891, married Margaret Corl)
Andrew Jackson Rayburn (b 2 Jan 1893, married Ithel Hamilton)
Benjamin Hobert Rayburn (b 11 May 1896, married Bessie Frazier, married Helen Huffman)
William J Rayburn (b Jan 1895)
Thurston Rayburn
Places Lived
Lewis Co, KY, USA (1880 Census)
Marriages
Death
Date: 22 Aug 1949
Location: Emerson, Lewis Co, KY, USA
Burial: 30 Aug 1949 in Old Stamper Cemetery, Rayburn Branch, Emerson, Lewis County, Kentucky
Biographical Information
Mary Alice Stamper (Rayburn) is the ancestor who has insisted on the fact that her branch of the family is part Cherokee
Lewis Napoleon Rayburn stole her away from her parents by night and rode thirty miles on a horse to cross the Ohio river and get married.
Remembrance of Mary Sue Wootton:

Grandma saying: "Son, while you are resting, could you pull some weeds for the hogs?" etc. Or whatever: WHILE YOU ARE RESTING!
Charles C Rayburn noted she was just comparing their "boychores" to her working from dawn to dusk and just didn't think little chores added up to her WORK.

Died at her mother's home at age 85 of a cerebral hemorrhage due to hypertension
Her son James Tinsley and his family (including grandson Lewis C "Bud" Rayburn") lived with MAS and Lewis Napoleon Rayburn for awhile when James was out of work.
References
Notes
The Rayburn section of the packet from Mary Sue Wootton refers to a larger packet of material that I do not have a copy of.
The references to a Stamper/Cherokee intermarriage are all from Mary Alice Stamper and some of her descendants who did research on this. It does not look like any conclusive evidence was ever found other than MAS repeating the fact verbally. MAS told Lewis C "Bud" Rayburn that her dad George Washington Stamper was 1/8th Cherokee.
There is a "Stamper Family Project Association". I think this is it.
Some sources give birth date as 18 May 1865 and another gives 4 Apr 1865 instead of 18 Apr 1865, but I'll go with what is on the tombstone.
Similarly some sources give death in 1948 and some in 1949. The picture I have of the grave is not very clear, but my first instinct was 1949. This could be wrong though.
Mother sometimes shown as "Kate" Dyer.
I don't have a page for Benjamin Hobert Rayburn (one of Mary Alice's sons), but his son Charles C Rayburn sent over this heartfelt biography of him.
Mary Sue Wootton was named after Mary Alice Stamper (as well as Susan Catherine Groves)
According to Mary Sue Wootton, Barbara Kingsolver was another of Mary Alice Stamper's grandchildren. At this point (8 Apr 2007) I have found no evidence to support this and some evidence against. So this claim at the moment seems to have no merit, although a more distant relationship may yet be found.
This page was linked to from Abulsme.com on 31 Mar 2007.
Son James was one of "two redheads" in the family
Categories