William Maynard Wootton
From AbulWiki
This page is part of the Genealogy Research being done by Samuel Antonio Minter. It represents the best information I have at this time on this individual. This site is a Wiki open to be edited by anyone. If you see errors, or have additional relevant information, feel free to update this page. If you are not comfortable editing the page directly, please email me with the information at abulsme@abulsme.com. Thank you!
---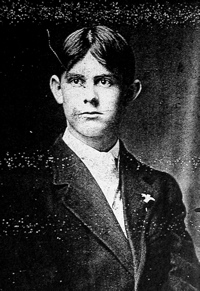 Birth
Date: 3 Mar 1891
Location: Central City, Kentucky, USA
Immediate Ancestors
Immediate Descendants
With Maude Mae Rayburn
Norma Louise Wooton (married Fred Esch)
Places Lived
Central City, Kentucky
303 Powell; Evansville, Indiana
Florida
Tucson, AZ
Marriages
Death
Date: 6 Jun 1962 7:40 PM (Mountain Time)
Location: Tucson, AZ
Biographical Information
First job was driving mules in a coal mine
Worked at a clothing store for his brother-in-law (older sister Erie Antilo)
Attended Vanderbilt University
Secretary at Eastern Kentucky State Teachers' College
BS in Commerce from EKSTC
Met Maude Rayburn while at EKSTC
Spent five years as a superintendant at Huntsinger Business College in Hartford, CT
Spent 6 years as assistant to M. H. Lockyear at Lockyears Business College
Bought Lockyears business college in Evansville, IN which served the tristate (IN, KY, IL) - Served 25 years as president and 5 as Chairman of the Board
Sold his interest and retired in 1951
On retirement did the Dale Carnegie courses
Developed the idea of Dale Carnegie courses in small towns
Was a good friend of Dale Carnegie
President of National Office Management Association
Vice-President of National Association of Accredited Commercial Schools
Helped found Goodwill Industries in Evansville
Director of local YMCA board
President of Downtown Optimist Club
Helped found Camp Optimist for Boys
Board Member of Vanderburgh County Crippled Children's Society
Belonged to Several Masonic organizations and First Baptist Church
"Rags to Riches" story
Recollection of Mary Sue Wooton:

Uncle Bill and Aunt Maude, my folks, were the solid center for both sides of the families united by their marriage. Dad grew up in Central City, Ky -- first job in the coal mines; and Mom in a hardworking farm family in Emerson, Ky -- first job a one room school house. Later as solid citizens in S Indiana, Evansville on the Ohio River, Dad was owner of a busy tristate business college and Mom took care of many kin beside her own!! Not too strong nor organized she opened her spareroom and board to nieces and nephews through many years as Dad gave them free tuition.
I remember that Bud (named for grandpa LN lewis Rayburn) complained once that he was so weary of ribeye steak as that was what Maudie could fix fast for supper for all.
We were away at college I guess when Dick sent his laundry home from Purdue for her to wash and send back! This was the family a half block from us on E Powell that she did what she could for after Margaret lovely browneyed wife of her bro "Doc"" one of the two redheads in tht family died of pneumonia after the birth of her last child Eugene. Mother worried with the constant parade of housekeepers and keeping groceries in etc. The touching story that says a lot about this Appalachian woman (she never pulled a weed if it had a blossom) and had a love of animals. After dishes were done and things quiet, she would go often and get Docs litte pooch, walk him down two blocks (she never drove a car), buy him a hamburger which he ate on the deli floor!
They also took in one of my friends from my summer in Mississippi in work camp (a sharecropper). She was in DC working during the War, married a man high in the Navy, and was always grateful for her middle class life.
References
Notes
Fathers middle name sometimes listed as "Ramey"
This page was posted on Abulsme.com on 23 Jun 2006
Mother sometimes listed as "Sue Katherine" rather than "Susan Catherine"
Categories