Lewis Napoleon Rayburn
From AbulWiki
This page is part of the Genealogy Research being done by Samuel Antonio Minter. It represents the best information I have at this time on this individual. This site is a Wiki open to be edited by anyone. If you see errors, or have additional relevant information, feel free to update this page. If you are not comfortable editing the page directly, please email me with the information at abulsme@abulsme.com. Thank you!
---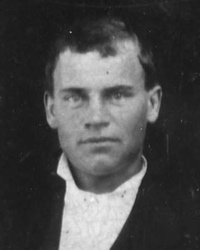 Birth
Date: 18 Sep 1860
Location: Rowan Co, KY, USA
Immediate Ancestors
Immediate Descendants
With Mary Alice Stamper
Charles Simpson Rayburn (b 12 Nov 1883, d 8 Feb 1904)
Martha Weaver Rayburn (b 6 Nov 1886, d 21 Jul 1962 in Rush Co IN, married Joseph Winfield Fitch on 20 Dec 1903)
James Tinsley Rayburn (b 12 Sep 1891, married Margaret Corl)
Andrew Jackson Rayburn (b 2 Jan 1893, married Ithel Hamilton)
Benjamin Hobert Rayburn (b 11 May 1896, married Bessie Frazier, married Helen Huffman, died 16 May 1986)
William J Rayburn (b Jan 1895 - died as infant)
Thurston Rayburn
Places Lived
Marriages
Death
Date: 15 Apr 1947
Location: Emerson, Lewis Co, KY, USA
Burial: 18 Apr 1947 in Stamper Cemetery, Raybourn Branch, Emerson, Lewis County, Kentucky
Biographical Information
Was a state senator, salesman, school teacher, lawyer and farmer
Had brown to black hair
Served two terms in the Kentucky Senate as a Republican in 1916 and 1918
From the "Kentuck Director, 1918" - Honorable L N Rayburn was elected State Senator November 2, 1915. Served two regular sessions, 1916 and 1918. L N was born in Rowan County and educated at Farmers, KY. Served as Sheriff and Justice of Peace of Lewis County. (From Lewis C Rayburn via stampers.org)
From the "Kentucky Directory" pages 216-217 (in the CCR packet): "Rayburn, Hon. L. N. (R.), Emerson, Kentucky. Son of Ben and Martha Rayburn. Born in Rowan County, Kentucky, September 18, 1860. Educated at Farmers, Kentucky. Has served as Sheriff and Justice of Peace of his county. Farmer and merchant. Member of the Methodist Church, Masons, Ren Men, Juniors, Odd Fellows. Married Miss Mary A. Stamper, August, 1882. Elected State Senator, November 2, 1915."
Lived in an old log cabin in Central City, KY along with his wife and children.
Charles C Rayburn (Lewis Napoleon Rayburn's grandson via Benjamin Hobert Rayburn) wrote this remembrance:

Grandpa Rayburn --
He was in his early seventies when I was old enough to walk the one-fourth mile to his house. He was postmaster, which function occupied one corner of this small country store. By this time the store was out of business but the tobacco plug shear, candy jars and thread drawers remained on the counter top as reminders of the old store.
I sat on the counter top beside Grandpa as he unlocked and opened the US mail saddle bag. The mail came via mule back since the mail route was not negotiable by wheeled vehicles.
Grandpa would tell stories as I listened by the hour. Stories about his experiences as a school teacher; or his days as a traveling salesman for a general store distributer; or his political career as a state senator.
He stole Grandma away from her parents by night and rode thirty miles both on one horse that night and crossed the Ohio river to get married. He remembered Civil War soldiers coming through their yard and asking for water.
He unraveled many stories of his brother, my Great Uncle Jim. Uncle Jim killed his father-in-law who had planted a shot gun in a fodder shock to kill Uncle Jim as if by accident. I remember when Uncle Jim was shot in the hip by a robber. Grandpa loaded his pistol and took off to kill this robber. The robber was much younger and escaped into the hills. Fortunately Grandpa did not find him.
Grandpa was excellent with numbers. He also wrote well but had no need for periods or commas.
He was notary public which made him legal expert for the neighborhood. He understood the law regarding land transfers, wills, law suits and any official papers which came through the mail. Most of the residents of our community were functionally illiterate so Grandpa's services were especially needed. Also he provided his legal expertise at no charge.
His law office was a bench seat supported on each end by hickory trees beside the dirt road. He would counsel with his clients while I was privileged to listen in. The two of us sat there talking and whittling.
The second law office was his winter quarters by the fire place where he spent hours reading the paper and explaining the news to me along with his independent judgement on the various subjects. I watched as he chewed tobacco and smoked his pipe. Of course I had to do the same but not in his presence.
He and Mom had great respect and admiration for the other.
After I went away to school then into the military we kept in touch by mail. I wanted to be just like Grandpa.

Died at home at age 86 of influenza and heart attack
Her son James Tinsley and his family (including grandson Lewis C "Bud" Rayburn") lived with LNR and Mary Alice Stamper for awhile when James was out of work.
He "stole away" his wife Mary Alice Stamper from her parents by night and rode thirty miles on a horse to cross the Ohio river and get married.
References
Notes
I don't have a page for Benjamin Hobert Rayburn (one of Lewis Napoleon's sons), but his son Charles C Rayburn sent over this heartfelt biography of him.
Fathers name noted specifically by Charles Rayburn to have been Rabourn rather than Rayburn, but some documents keep the same spelling.
Some sources spell name Napoleon, some Napolean. I am tentatively going with Napoleon since it matches the famous French General, but Napolean seems to be more common in the online sources, and the family sources I have only have the middle initial.
Some sources give birth date as 9 Sep 1860, some as 18 Aug 1860. I'm going with what is on the tombstone.
Sources imply that there is a distant relation to Sam Rayburn but so far I have not found the connection.
Had a grandson Lewis C "Bud" Rayburn named after him. "Bud" was the oldest child of James Tinsley Rayburn.
CCR Package gives 6 Aug 1886 date for Martha Weaver Rayburn rather than what is given above.
Posted on Abulsme.com on 11 Mar 2007.
Also known as "Louis" and "Lou".
Barbara Kingsolver was stated by Mary Sue Wootton to be another of LNR's grandchildren, but this appears to be apocryphal.
Son James was one of "two redheads" in the family
Categories