Sarah Olive Wright
Jump to navigation
Jump to search
This page is part of the Genealogy Research being done by Samuel Antonio Minter. It represents the best information I have at this time on this individual. This site is a Wiki open to be edited by anyone. If you see errors, or have additional relevant information, feel free to update this page. If you are not comfortable editing the page directly, please email me with the information at abulsme@abulsme.com. Thank you!
---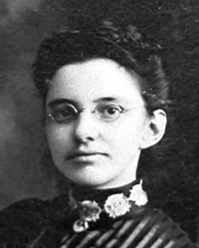 Birth
Date: 13 Sep 1878
Location: Weybridge, VT, USA
Immediate Ancestors
Immediate Descendants
With Donald Paul Hurlburt
Roderic Wright Hurlburt (b 30 Aug 1906 d 1986 - Reverend in UCC, lived in Southampton, MA)
Places Lived
Marriages
Death
Date: 5 Aug 1917
Burial: Burial: Weybridge Hill Cemetery, Weybridge, VT (Wright Lot)
Biographical Information
Graduated from Middlebury High School (Vermont) in 1898
Went by "Sarah" not Olive
Died when hit by a car as a pedestrian
From Ruth Marilyn Brandon: "My mother (Marion Vera Hurlburt) lived with  these grandparents (George Henry Wright and Crucy Eliza Elmer) a couple years while her father (Donald Paul Hurlburt) looked for a second wife when the first (Sarah Olive Wright) was a pedestrian hit, dragged and killed by a car in Rutland,VT when  my mother was ca 12-13 and her brother Roderic several years younger. (ca 1915 or 1916 when cars were new and driving not yet requiring competence marked by a license)"
References
Notes
The one online source I have been able to find (the Creitz site) lists the name as O. Sarah Wright. However Ruth Marilyn Brandon initially insisted that she has always heard Sarah Olive Wright and not Olive Sarah Wright and all family documents bear that out. So I went with that for awhile. But a more recent email uncovers more evidence for the Olive Sarah order, so I have switched the name to reflect that.
Some sources show wedding 4 Mar 1901 instead of 24 Mar 1901 as shown above.
The Wright Lot in Weybridge Hill Cemetery is in C row easily distinguishable because the major monument has tall maple trees growing on each side of it
Posted on Abulsme.com on 4 Aug 2006
Copy of gravestone sent by Scott Brandon gives 1878 (rather than 1879) as birth year, and has the "Sarah O. Wright" version of the name... leading weight again to Sarah Olive rather than Olive Sarah. There are sources that use both. One of the emails from Ruth Marilyn Brandon forwarding a picture labeled by D. David Brandon using "Olive Sarah" tipped me previously to use Olive Sarah, but I have several pictures of the gravestone showing "Sarah Olive". Should the gravestone be considered the most accurate source and the name flipped again? I won't yet, but will consider it again.
OK, as of 22-Dec-2021 changing everything on this wiki to Sarah Olive rather than Olive Sarah.
Categories