John Russell Minter
From AbulWiki
This page is part of the Genealogy Research being done by Samuel Antonio Minter. It represents the best information I have at this time on this individual. This site is a Wiki open to be edited by anyone. If you see errors, or have additional relevant information, feel free to update this page. If you are not comfortable editing the page directly, please email me with the information at abulsme@abulsme.com. Thank you!
---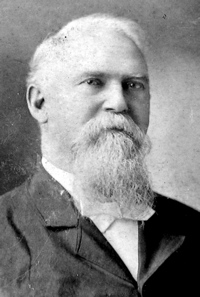 Birth
Date: 4 Jul 1833
Location: SC, USA
Immediate Ancestors
Immediate Descendants
Fannie Dodson Minter (b 26 Jul 1869, d 15 Mar 1881)
John Russell Minter Jr (b 12 Aug 1873, graduated Univ of SC, married Maggie Murchison 4 Nov 1891 in Davidson, NC, d 18 Feb 1896 of sinus trouble)
James Ethelwyn Minter (b 20 Aug 1875, graduated Citadel, married Mary Francis Delabar 12 May 1908, d 1 May 1948)
Josephine Minter (b 12 Aug 1877, married Nathaniel Barksdale Dial on 17 Oct 1906, d 10 May 1960)
Edward Perrin Minter (b 7 Mar 1879, married Lillian Gelder 3 Sep 1901, d 2 May 1927 in Laurens, SC of a stroke)
Places Lived
Sedalia, Union County, SC, USA
California, USA
Laurens, SC, USA
Marriages
Martha Emily Stewart (b 10 Sep 1833)
Fannie Dodson Ramseur (married 9 Sep 1868 in Lincolnton, NC by Rev R.A. Davis)
Catherine Christine Smith (married Sep 1883 in Glenn Springs, SC by Rev McCulla, died 1906)
Death
Biographical Information
Was a Farmer and Merchant
During the Civil War worked in the Confederate State Treasury Department.
He went to California for an unspecified time and was successful in real estate.
He gained a financial footing to run a successful farm and educate all of his children through college.
He returned to South Carolina but would not sign the loyalty oaths required under reconstruction.
John Russell was to marry Theodocia Roseboro of Chester, SC but she died on the wedding day. Remaining a batchelor for several years, John Russell acquired Sedalia house from the old Bobo family and established it as a plantation after the Civil War. It was originally a two room log house. He added to it until it was finally a large 12 room home with 100 foot long piazza. John Russell was called Papa.
There was a fire in the John Russell Minter home in Sedalia, SC on 15 Mar 1881. Daughter Fannie's dress caught fire before the fireplace. Her mother Fannie, pregnant with a near-term boy, rushed to help and her clothes also caught on fire. Daughter Fannie died that day; Mother Fannie and baby died 10 days later.
He was known all over the state as a splendid farmer who specialized in cotton, corn, cattle raising and other diversified crops. He won an exhibition in New Orleans on cotton and corn.
Plantation owner in SC
He was elected without running to the South Carolina legislature.
He built and supported Enoree Presbyterian Church and was elder there until he moved to Laurens in 1891.
At Laurens John Russell built a lovely Victorian frame home which extended beyond a creek and to another street.
Son James Ethelywn and family lived with John Russell and "Mother Catherine" in Laurens until her death in 1906.
From 1906 until John Russell's death son Edward Perrin and family moved in to be with John Russell.
Later in life as the family patriarch known as "Papa" with a short "a"
References
Notes
MSW Packet Page 4b gives 1873-1943, but that refers to son William Ramseur Minter
Daughter Josephine married Nathaniel Barksdale Dial who was later a US Senator
MSW Packet Page 38 gives father as William Love. He was in fact William Minter.
Third wife was called "Mother Catherine" by the children of second wife Fannie.
Mother AKA Lucinda M Love.
I have no specific reference as to the location of John Russell's birth. But his parents were born and lived in South Carolina, and JR himself lived almost his entire life in South Carolina. So I am putting SC as location of birth. I believe it is a pretty safe bet.
Posted on Abulsme.com 2 Sep 2006.
There is only one Rootsweb source of info for existence of first wife Martha and she does not appear in family documents, so she may or may not have existed.
Categories